The Observer's Page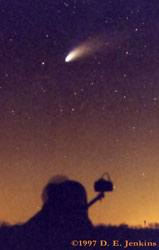 The feature image of the observer's page was taken during observations of Comet Hale-Bopp. The dark shadow of a telescope with a camera mounted on it is highlighted in the vanishing twilight. The blue component of the comet's tail is cropped off the image.
What's Up?

"What's Up in the Night Sky?" is Astra's monthly almanac! Find out what's up in the sky this month. Monthly features cover constellations or other astronomical topics of interest. The almanac was original written by the Star Geezer, Ron Leeseberg who retired in December 2011. Bookmark this page to find out what to look for this month by reading the latest issue. Works great on phones, too!
Find out more about this feature by clicking on the home page, "What's Up? home".
The Observer's Page offers advice to newbies, stargazers, amateur astronomers and astronomy clubs. Welcome to the new Observer's Page!
Assistance for Beginners
Almanacs and Observing Aids
Online Planetarium Programs and Free Downloads
Stellarium - free open source planetarium download, often used on Astra's Star Gate to generate the charts used to illustrate What's Up, Ron?
Skyview Cafe - a java program to use online or download
Your Sky by John Walker, interactive web-based planetarium
Observing Constellations
Observing Solar System Objects
Upcoming total lunar eclipses, visible for N. America
Comets! (Astra's Page)
This is a short list of the many comet sources that are out on the www. The first goes to an article written a few years ago. Click on the title of this section to go to the main comet page at Astra's Star Gate
Observing Deep Sky Objects
Galaxies - At Last!
Earth Sky Stuff
Astra's Information for Astronomy Clubs
Top of Page