Visionaries that Paved the Road to Space
Well, who can forget Jules Vernes who wrote early on about launching rockets to the moon or even Leonardo da Vinci who dreamed of flight way back in the 1400's. Astra highlights the modern pioneers of space development and other space visionaries.
Konstantin Tsiolkovsky is the Russian/Soviet rocket scientist who practically invented astronautics. We must also mention Robert Esnault-Pelterie, the French engineer who published a paper on rocketry in 1913. We can't forget Robert H. Goddard, the American who is considered to be one of the founding fathers of modern rocketry. Along with Hermann Oberth the German engineer, these four men are thought to have been the pioneers of rocketry. India considers Vikram Sarabhai to be the founder of their space program.
Don't despair if your favorite pioneer is not shown. Astra is finding more space heros and this page will feature their stories. Come back to find out if Astra had added the biographies of Sergei Korolev, Hideo Itokawa, John Kennedy, Richard Branson, Burt Rutan, Weixing Wan, and Elon Musk. More names and biographies will be added when possible.
Konstantin Eduardovich Tsiolkovsky
Konstantin Tsiolkovsky was born in the village of Izhevskoye, Russia in 1857. His father, Makary Tsiolkovsky was a forest ranger and his mother was Mariya Ivanovna Yumasheva. When Konstantin was a boy, the family moved to Vyatka. At the age of 10, he contracted scarlet fever that caused him to go deaf. Because of his disability, Konstantin had to be taught at home. Unfortunately, his mother died when he was 13 years old. Konstantin was influenced by Nikolai Fyodorov, who worked at Chertkovskaya library that Konstantin attended in Moscow where he lived from 1873 to 1876. His life was hard because of his hearing problems.
In 1880, the Ministry of Education assigned 22 year old Konstantin to teach mathematics in the town of Borovsk in the Kaluga Region of Russia. Konstantin married Varvara Yevgrafovna Sokolovaya, daughter of the priest that rented him a room in the town. In 1833, Tsiolkovsky wrote "Free Space" discussing the possibility of living in outer space and the effects of zero gravity. He also included a drawing of a spacecraft that could change its orientation in space using reactive jets. He wanted to show that it was possible to control the motion of a vehicle in free space. It wasn't published until 1956, more than twenty years after his death.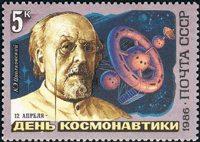 In 1903, he published an article discussing his theory of spaceflight "The Investigation of Space by Means of Reactive Devices". It was the basic equation for reaching space by rocket that is still known as the "Tsiolkovsky Equation". It was the first theoretical proof of the possibility of spaceflight. In 1919, Konstantin Tsiolkovsky became a member of the Soviet Academy of Science. He was the one who first determined that the escape velocity from the Earth into orbit was 8 km/second. He lived until 1935.
Konstantin wrote over 500 scientific papers, that influenced many young Russian engineers and designers. He lived long enough to see Russian engineers and scientists begin to make his visionary concepts reality. One of them was Sergei Korolev, the "Chief Designer" of the Soviet space program who will be discussed on this page in the near future. A crater on the moon, Tsiolkovskiy is named for him. It is located at 20.4°S 129.1°E . The asteroid, 1590 Tsiolkovskaja, was named after his wife, Varvara Yevgrafovna Sokolovaya, who supported him and his children with hard work and evidently approved of his work as she allowed Tsiolkovsky to build the first wind tunnel in Russia (1897) in her home!
Robert Esnault-Pelterie
Robert Esnault-Pelterie was born on November 8, 1881 in Paris, France. He was a French aviator that studied engineering at the Sorbonne. He was inspired by the Wright brothers to experiment with building airplanes.
On September 19, 1906, he flew 500 m (1,600 ft). This airplane was towed by an automobile. Esnault-Pelterie made his first powered flight on October 10, 1907, traveling a distance of 100 m (330 ft.) with the REP 1 monoplane. (REP = Robert Esnault-Pelterie) This vessel was driven by a seven-cylinder, 30 hp engine that Esnault-Pelterie designed and patented. In 1907, he flew his redesigned monoplane, the REP 2. These were the first planes with enclosed fuselages.
Esnault-Pelterie got interested in space travel and began to study rocketry. In 1913, he wrote a paper that presented the rocket equation and calculated the energy required to reach the Moon and other planets. He proposed the use of atomic energy to power an interplanetary vehicle. His final work was "L'Astronautique" that was published in 1930.
In 1929, Esnault-Pelterie proposed the idea of military uses for ballistic missiles. He worked with the French War Department to fund a study of the concept. Esnault-Pelterie began experimenting with various types of rocket propulsion systems and liquid propellants. During an experiment with a rocket design he lost four fingers on his right hand in an explosion. Esnault-Pelterie failed to create enough interest in rocketry within France to continue his military research.
Robert Esnault-Pelterie was an inventor. In the end, he held over 200 patents. He invented the aileron, a movable airfoil at the edge of the wing that controls modern airplanes. He also invented the gimbaled or swiveling nozzle rocket that is used widely today to steer rockets. He died on December 6, 1957 in Nice, France.
A crater on the moon, Esnault-Pelterie is named for him. It is located at 47.7°N 141.4°W .
Robert Hutchings Goddard
Robert Goddard was born on October 5, 1882 in Worcester, Massachusetts, U.S.A.. Already keenly interested in science, when Robert read H. G. Wells' science fiction story, "The War of the Worlds" and that set him off on space exploration at the age of 16. If anyone inspired the George Washington cherry tree story, it could have been Robert Goddard. At the age of 17, he climbed a cherry tree and whacked off some limbs so that he could see more stars. From the height of the tree, he became tranfixed staring at the stars and imagined traveling to the distant red planet of Mars.
Robert Goddard had poor health, but a voracious appetite for aerospace. He studied Samuel Langley's scientific papers that were published in the Smithsonian. He studied the behavior of birds and believed that humans could learn to control a flying machine using brain power. Reading Newton's Principia Mathematica, he believed that Newton's Third Law of Motion could be applied to motion in space. Even in high school, Goddard was writing articles and trying to make an impact. He was turned down a number of times along his way and never really achieved significant fame in rocketry until after his death. Many times in his life, his works were ridiculed by scientists and the press.
Goddard earned a B.S. in Physics at Worcester Polytechnic Institute in 1904. In 1911, he completed his Ph.D. in physics at Clark University. On June 21, 1924, Goddard married Esther Kisk, a secretary in Clark University's President's office. She was enthusiastic about rocketry and aided him with experiments, handling finances, and paperwork. She also photographed some of his work.
Goddard held 214 patents for his inventions including a multi-stage rocket, and a liquid-fuel rocket. His 1919 monograph, "A Method of Reaching Extreme Altitudes " is considered one of the classic texts of 20th-century rocket science. Goddard successfully applied two-axis control (gyroscopes and steerable thrust) to rockets to effectively control their flight.
Goddard's greatest engineering contributions were made during his work in the 1920s and 1930s. Goddard received $10,000 from the Smithsonian by 1927, and through the personal efforts of Charles A. Lindbergh, he received financial support from the Daniel and Florence Guggenheim Foundation. His rocket flight in 1929 carried the first scientific payload, a barometer, and a camera. His work, titled "Liquid Propellant Rocket Development," was published by the Smithsonian in 1936. During World War II, Goddard was assigned by the U.S. Navy to develop jet-assisted takeoff and liquid-propellant rocket motors capable of variable thrust. Although he preferred to work alone, Goddard met both challenges expertly.
Goddard's work as both theorist and engineer came in advance of the many developments that made spaceflight possible. Sometimes he has been called the man who ushered in the Space Age. Although Tsiolkovsky, Oberth, and Goddard conducted similar research and arrived at similar conclusions, they did not know the details of the other's work. All three of these scientists share the title of Father of Rocketry. A crater on the moon, Goddard is named for him. It is located at 14.8°N 89.0°E .
Hermann Oberth
Hermann Julius Oberth was born June 25, 1894 in Nagyszeben, Hungary. Oberth's interest in rocketry was set off by the novels of Jules Verne. He read "From the Earth to the Moon" and "Around the Moon" over and over. Oberth built his first model rocket at the age of 14. As a youth, he decided that a 2-stage rocket was a good idea.
At the outbreak of World War I, Hermann was drafted into the Imperial German Army and sent to fight on the eastern front against Russia. In 1915, Oberth was wounded and moved into a medical unit in Austria-Hungary, in what is today Romania. There he found the spare time to conduct a series of experiments concerning weightlessness, and later resumed his work on rocketry designs. By 1917, he showed designs of a missile using liquid propellant with a range of 290 km to Hermann von Stein, the Prussian Minister of War.
On July 6, 1918, Oberth married Mathilde Hummel, together they had four children. In 1919, Oberth moved to Germany to study physics in Munich and later at the University of Göttingen. Oberth published his first draft of "The Rocket into Planetary Space", and a more detailed version was printed in 1929.
In 1928, Oberth also worked in Berlin as a consultant on the film, Frau im Mond ("The Woman in the Moon"), This film helped to popularize rocketry and space exploration. Oberth was assigned to build and launch a rocket as a publicity event before the film's premiere. He also designed the model of the Friede, the main rocket portrayed in the film.
Oberth moved around a lot. In 1943, he worked on solid-propellant anti-aircraft rockets. He went to Switzerland as a rocket consultant then in 1950 he moved to Italy, where he worked on anti-aircraft rockets for the Italian navy. Living in the United States from 1955 to 1958, he did advanced space research for the army. He died on December 29, 1989, in Nuremburg, West Germany where he lived after retirement.
A crater on the moon, Oberth is named for him. It is located at 62.4°N 155.4°E.
Dr. Vikram Ambalal Sarabhai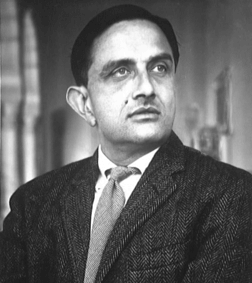 Dr. Vikram Sarabhai, born on August 12, 1921, is considered the founding father of the country of India's space program, now known as the Indian Space Research Organisation (ISRO).
Sarabhai was born to a wealthy industrial family that worked for many years to help India gain independence from Britian. Indian independence occured on August 15, 1947. Tthat must have been a major turning point in his life. In 1942, Vikram Sarabhai married a classical dancer, Mrinalini. The couple had two children, a daughter, named Mallika and a son, Kartikeya.
During the early days of space exploration, Sarabhai recognized the benefits of space technologies and how they could work well for India. He believed that space technologies should benefit the common man. In 1947, Sarabhai founded the Physical Research Laboratory (PRL) persuading some of the top scientists and engineers in the country to join him. He was also the chairman of India's Atomic Energy Commission and so had many contacts.
Sarabhai was the founder and chairman of the Indian Space Research Organisation from its inception in 1963 until 1971 when he suffered a heart attack. He was working toward building a satellite that was totally built in India. On April 19, 1975 the first Indian satellite, Aryabhata, launched into space from Kapustin Yar. It was placed into orbit by a Russian rocket Kosmos-3M launch vehicle.
He is remembered by India by the renaming of the lead center of ISRO responsible for the design and development of launch vehicle technology, in Thiruvananthapuramm, in southwestern India, to the Vikram Sarabhai Space Centre.
Dr. Vikram Sarabhai is quoted by ISRO:
"There are some who question the relevance of space activities in a developing nation. To us, there is no ambiguity of purpose. We do not have the fantasy of competing with the economically advanced nations in the exploration of the moon or the planets or manned spaceflight."
The lunar crater Sarabhai was named after Vikram in honor of his achievements. It is a small crater located in Mare Serenitatis at 24.7°N 21.0°E.
+ + Find out more about Vikram Sarabhai at the ISRO website.