I have always been interested in astronomy and space. As a child, my brothers and I rediscovered Saturn using a small telescope. As a young adult, I joined the Astronomy Book Club and subscribed to Astronomy magazine. A few years later, that I began to observe the stars through amateur equipment. I had decided borrow a friend's binoculars to observe the moon. In just a few minutes, I was hooked!
For many years, I worked at NASA John H. Glenn Research Center under contract. I worked as a Budget Analyst supporting Science and Technology projects, the Space Shuttle, and International Space Station projects. I've also supported the Power and Propulsion Division, the Diversity Office, and the Office of the Chief Engineer. For five years, I worked full time as an outreach co-ordinator. This worked covered public, educational, technical and internal outreach and I sometimes staffed exhibits at various conferences and events across the country.
Total eclipse in Baja California
Grinding a 12.5-inch mirror
Away Team Mission to Zoolanda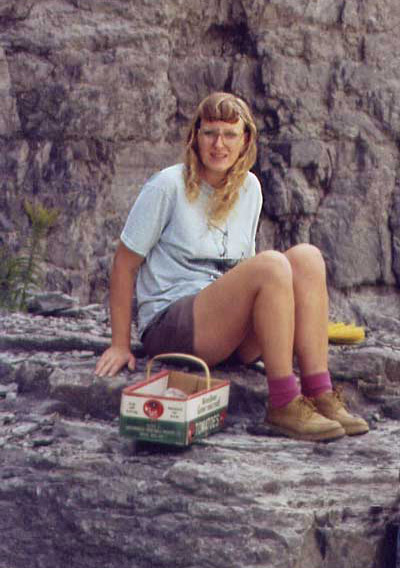 Fossil hunting in Canada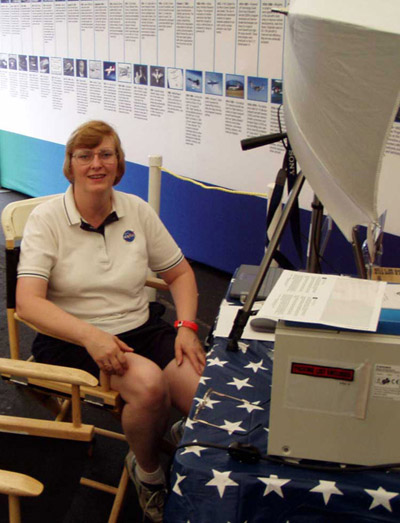 Outreach at the Dayton Air Show
My first permanent assignment at Glenn,I supported the Microgravity Science Division working with graphics, web development and administrative support. I was the lead developer for the Fluid Physics Website that featured NASA Glenn's contribution to space experiments conducted in microgravity. For 5 years, I served as a volunteer advisor to Explorer Post 633 (Human Space Flight) at NASA Glenn. For this after school program, I focused on astronomy and also wrote a Mars Mission for students that we used for three years and transitioned into a Space Station program during the last year.
Although my health problems keep me from spending time in the field, I can never resist an opposition of Mars so that whenever we start to glide past that pale orange dot, I'm glued to the tube or looking at images posted on the web. I keep track of the moon, planets and stars, by writing Astra's monthly almanac, What's Up?. A clear lunar eclipse will always attract my attention. If I am able, I like to view the International Space Station when it makes passes over Cleveland. As a Girl Scout Volunteer, I supported local astronomy and space programs. Astronomy trips I made include the Enchanted Skies Star Party in Sicorro, NM. We observed from 10,000 feet atop Mt. South Baldy and visited the Very Large Array at the National Radio Astronomy Observatory on a tour sponsored by New Mexico Tech Astronomy Club. In 2012, my husband and I traveled to Hawaii to get a better glimpse of the transit of Venus than was available from our hometown.
For many years, I was a member of the Cuyahoga Astronomical Association. What I liked best about the club is that the more experienced observers help newcomers to get involved with the sky. I have held board positions including President and Treasurer. I have also been the Observations Director and the club Historian. I have given various talks and public programs, on the topics of general astronomy, comets, telescopes, Caroline Herschel, women astronomers, orbiting observatories, binocular observing, cold weather gear and Maya astronomy. At the end of 2004, family duties and work obligations caused me to give up my membership. If you are interested in the Association, you can click the link here to visit their home page.
For 15 years, I served on the Three-Member Council that directs the Ohio Turnpike Astronomer's Association. The OTAA is a consortium of amateur astronomy clubs organized to unite the amateur astronomy clubs of Ohio and to support astronomy education. We published a newsletter, "The Asteroid Belt," that served to connect our scattered clubs. I began writing astronomy articles for "The Asteroid Belt"and eventually became the Editor, a position I held for 5 years. For many years this organization has continued with a small internet presence.
I ground my first telescope mirror, a 6-inch f/9.6. My husband and I mounted it in a tube and put it on a Celestron equatorial mount. We traveled to Baja California to view a total solar eclipse through this instrument. Later, I ground a 12-1/2" mirror that I mounted in a special type of altazimuth mount, my own modification of a telescope designed by Thane Bopp. This telescope won two awards from the Astronomical League at the Richland Astronomical Society convention held in Mansfield Ohio.
I believe that women have always contributed a vital part in the story of human history as witnessed by the fact that most of our early accomplishments have been attributed to women including agriculture, pottery, weaving and, yes, even toolmaking!
I began to study the ancient astronomers and have incorporated this into the Stargate. I am very much an observational astronomer and I have a great respect for the deep insight the Maya and others in Mesoamerica gained from their centuries of observation.
My interest interest in space exploration began at an early age. In the past, I have supported space exploration and development, I have served on conference committees, written articles and helped to put on Space Week activities. As a member of the Midwest Space Development Corporation, I have helped to plan regional space conferences. Our committee brought the National Space Society's International Space Development Conference to Cleveland, Ohio. In the new millenium interest in space development is growing again, with plans to return to the moon and reusable rockets. Ad Astra!
All Users are Welcome to Astra's Star Gate on the World Wide Web!