Filters are used to enhance oneís view of an astronomical object. They work by blocking part of the visible spectrum and passing the rest.
Of course, there are different filters for different objects. Below are the basic filters used for solar system objects.
Colored filters are specified by their Wratten numbers. This standard was developed by Kodak in 1909 and has been used ever since for astronomy, photography, stage lighting, etc.
The moon filter is used to view a full, "fat" crescent or a "fat" gibbous Moon. It is an example of a "neutral density" filter, to reduce brightness without affecting color very much.
The #80A light blue filter is used to study the upper atmospheres features of Jupiter and Saturn. It reduced red, green and yellow wavelengths.
The #58 green filter is used to increase the contrast of Martian ice caps, clouds and dust storms. It is also used to study red and blue features of Jupiter, and low contrast features of Venus and the Moon. It can also be used to enhance "white light" solar flare in conjunction with an appropriate objective-covering solar filter. It reduces red and blue wavelengths.
The #25 red filter is used to observe Marís ice caps and other surface features. It is also used to observe the bluish clouds of Jupiter and Saturn. It reduces blue wavelengths.
The #15 yellow filter is used mainly to view features on the Moon. It improves the contrast between features of different brightness as well as penetrating the atmospheres of Mars, Saturn and Jupiter. It reduces blue wavelengths.
Of course there are many other colored eyepiece filters but the above makes a good basic set.
I generally use only the four that I keep in a rotary filter holder. The holder fits all of my telescopes (some 'scopes need adapters.).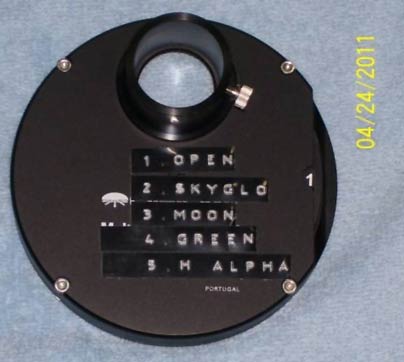 As you can see from the image above that position one is open, containing no filter at all. Frankly this is the one I use most often! The SkyGlo filter is used at night to reduce the effect of light pollution. The Moon filter is used to reduce eye fatigue when observing the Moon in its brighter phases.
The Green and Hydrogen Alpha filters are used when observing the Sun in conjunction with a full objective solar filter. The green filter increases the contrast between the surface of the Sunís Photosphere (surface) and white light flares.
The hydrogen alpha filter blocks most of the Sunís light except the tiny amount radiated by the Chromosphere (ďatmosphereĒ). Although not "narrow band" enough to block all of the light, it does allow the viewing of loops and prominences present on the Sunís ďedgesĒ.
(Iíve been known to flip the green filter into the optical path to "prove" that the Moon is made of green cheese.)
--See you next month!
Ron, the star geezer